Regional Vendors vs. National Vendors
Unity specializes in regional coverage. Unlike many national surveillance vendors Unity Surveillance & Investigations, LLC provides clients with the personal attention they deserve and the ability to cater to the client's specific needs. At Unity, your case will be our top priority.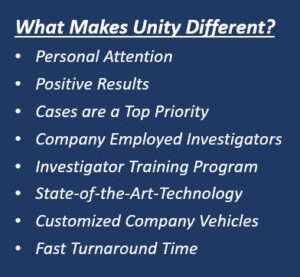 Unity has built a team of enthusiastic seasoned investigators that know what it takes to achieve positive results. All investigators at Unity are employees, we will never utilize subcontracts on your referral. Additionally, all our investigators complete our extensive training program prior to conducting any fieldwork on Unity's behalf. Our investigators are passionate and understand their role in the mitigation process for our clients.
Our Client Services Team focuses on report turnaround time. We understand the importance of receiving your results, and reports in a timely fashion. Our detailed reports are typically received within 48 business hours of completion. We pride ourselves in an industry-leading turnaround time and look forward to working with you.
Our team utilizes state-of-the-art technology and has access to numerous company vehicles, which allows us to achieve superior results for our clients. Here at Unity, we are proud of what we have achieved and look forward to sharing our success with our clients. We are constantly trying to minimize our client's exposure while maximizing their experience!
We are here to help with your investigative needs.